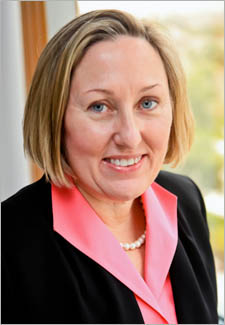 PERHAPS MORE THAN any other legal area, estate planning involves intensely personal issues. Attorney Colette Meyer focuses on guiding you through the complicated and often emotional maze of balancing family protection, wealth preservation and cherished family values in the estate planning process.
Colette designed her practice in 1998 with a dedication to providing life-long legal representation complemented by personal attention. As life's events happen or laws change, Colette will assist you in refining your goals and wishes and adjusting your estate plan as needed.
Colette brings over 20 years of experience to her law practice and built her legal foundation at renowned New York-based firms. Colette was counsel in the Palm Beach office of the international firm Donovan, Leisure, Newton & Irvine. And prior, she was an attorney at the firms of Mudge, Rose, Guthrie, Alexander and Ferdon and Nixon, Hargrave, Devans & Doyle.
Colette currently is a member of both the Florida State Bar and State Bar of Wisconsin. She was granted membership in the AARP Legal Services Network and has also held memberships in the Jupiter-Tequesta-Hobe Sound Association of Realtors and the National Network of Estate Planning Attorneys and The Family Wealth Planning Institute®, national organizations of attorneys who specialize in estate planning. In addition, Colette has participated in the adjunct professor program at the University of Miami-School of Law.
Ms. Meyer earned her law degree from the University of Wisconsin — Madison and, while attending law school, was employed by the Wisconsin Attorney General. Prior to law school, Colette completed a Biology degree at Carleton College in Minnesota.
Colette has a strong commitment to the community in which she lives and works and actively supports the arts in her role as President of the Lighthouse ArtCenter in Tequesta. Colette's personal interests include downhill skiing and whitewater rafting and, through her immigrant parents, Colette has U.S. and Swiss dual citizenship which sparked her love for travel.
Bar Admissions
Areas of Practice
Previous Experience
Donovan, Leisure, Newton & Irvine – Palm Beach, FL
Mudge, Rose, Guthrie, Alexander & Ferdon – West Palm Beach, FL
Nixon, Hargrave, Devans & Doyle – Jupiter, FL
Wisconsin Attorney General – Madison, WI
Education
University of Wisconsin-Madison – J.D., 1985
Carleton College – B.S. Biology, 1981
Associations and Memberships
Florida Bar Association
Palm Beach County Bar Association
Wisconsin Bar Association
AARP Legal Services Network
Publications
Community Involvement